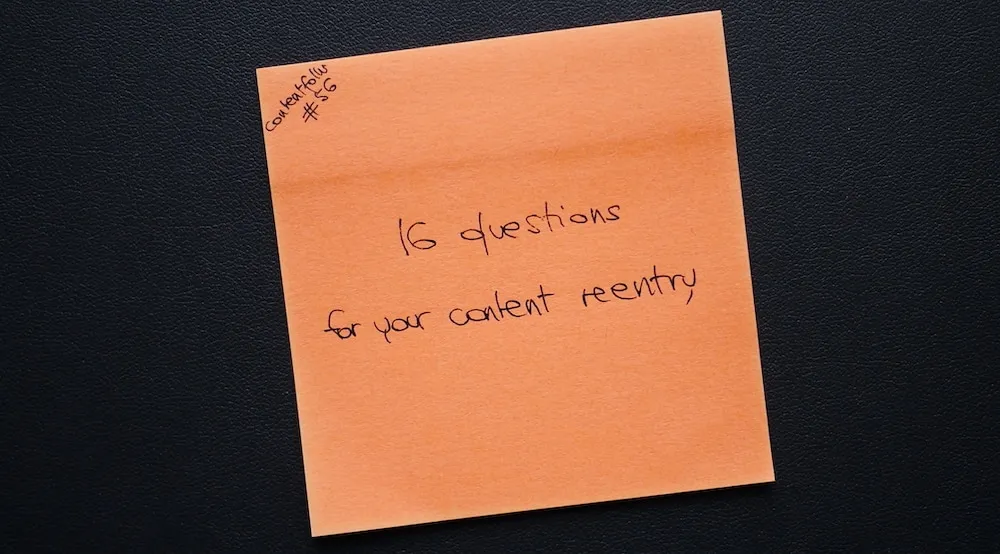 You are reading contentfolks—a fortnightly blend of sticky notes, big content ideas, and small practical examples. Thank you for being here! ~fio
---
Hey there 👋
For the first time in 6 years, I kept my work laptop fully switched off over the holidays, and wowee was it a shock to get back to work on Monday. If you, too, are struggling a bit to get back into the flow of things, this lovely piece about 'reentry' might make you feel better:
The dissonance that can happen when you come back to work after some time away is a kind of messenger. It's so easy when caught up in the day to day to become complacent about your own needs; it's nearly a necessity, in a lot of ways, because regularly coming face-to-face with how an environment or circumstance isn't enough can be so dispiriting […] But part of what a lengthy break can do is rid you of the fog you summoned to blunt your peripheral vision, so you can now see clearly what's missing or what's broken.
---
16 content marketing questions for 2023
The first week of a new year is a good time to remind yourself of where you are, how you got there, and where you want to go next—and this applies to both life and work.

I spent most of Monday running a content retrospective for 2022; on Tuesday, I switched to an exercise designed to help me re-focus on 2023. It's basically a list of questions you should ask yourself and your team at least once a year (ideally, once a quarter) to make sure you've got your foundations right and are keeping on top of industry and business shifts:
What are the business' annual and quarterly goals?

Who are our ideal customers?

What are the 3 most common customer journeys?

Who are we competing with, product- and content-wise?

What are the key business problems we're solving with content?

What is our annual content marketing budget?

What are our content goals?

How do we measure success?

How does our content marketing strategy impact business metrics (e.g. number of leads, conversion rates, revenue)?

Who is our target audience?

What content resonates the most with them?

What stage(s) in the buyer journey are we creating content for?

What content format(s) do we use?

What are our main distribution channels?

Which of our channels/pages/keywords/assets are the most successful?

Who are the influencers and amplifiers in our space?
How fast you go through these questions (and how detailed your answers are) depends on a lot of things, including the amount and quality of data available to you, the length of your tenure, and your seniority level:
If you work in a Director or senior strategic role, aim to have an answer ready off the top of your head for questions 1-6 and know most of the answers to questions 7-16.

For mid-level strategic and/or content marketer roles, the reverse is true: aim for a solid understanding of questions 1-6 and know answers 7-16 off the top of your head.

If you work in a writing role (in-house and freelance), you may not have many answers just yet: being curious and proactive about finding them will turn you into a valuable content partner this year.
---
I hope these questions help you get the clarity you need to have a bright and successful 2023—and as always, if I forgot something, will you let me know?