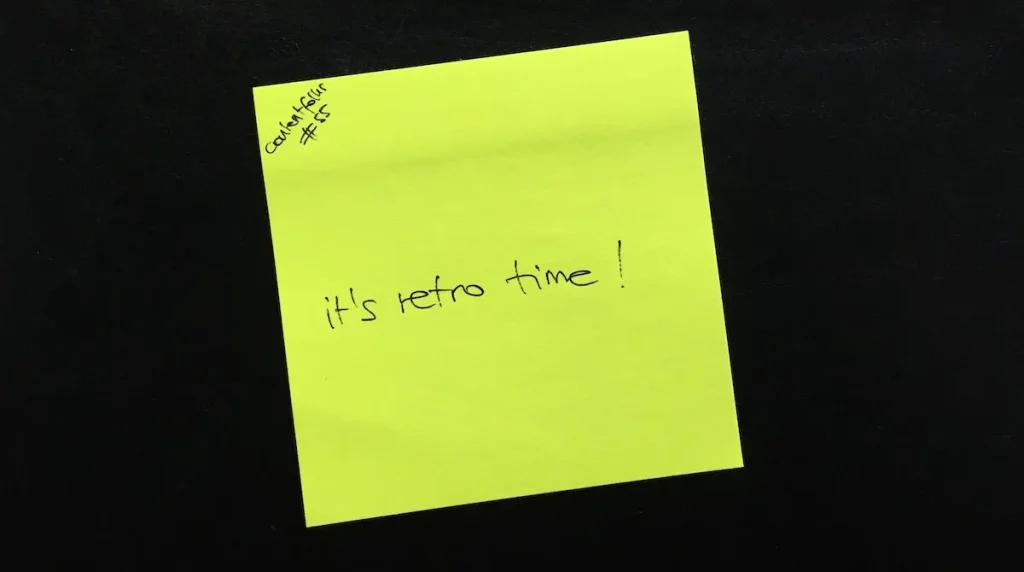 You are reading contentfolks—a fortnightly blend of sticky notes, big content ideas, and small practical examples. Thank you for being here! ~fio
---
Hey there 👋
It's beginning to look a lot like that time of the year when people revisit the previous 12 months, reflect on what happened, and figure out what to do next. In other words: it's retrospective time—and as a huuuuge fan of work (and life) retrospectives, I'm excited to write about them and hopefully convince/remind you to do one before the year is over.
---
TL;DR on retrospectives
Retrospectives (or retros) help teams and individuals reflect on their way of working and continuously improve it. They're usually done collaboratively over a meeting or shared document, but they can also be an individual practice. For example, you can:
Run regular retros with your content team to discuss content-specific obstacles you faced and solutions you came up with

Run retros with the larger marketing team to discuss how you work together and how to make collaboration more effective

Hold an end-of-project retro to bring all project contributors together, analyze your shared processes, and plan for future improvements

Have personal retros to examine your professional accomplishments and setbacks
The point is: you can do a retro on anything.* And you should! They are an excellent growth tool, and below are the two templates I've used the most.
---
* I can also vouch for family retros to discuss a relationship's past and current strengths and its areas for future improvement… but only if everybody is on the same page—this is NOT an excuse to air your grievances about parents or partners in the name of "continuous improvement!"
---
Retro example #1: This week's score / More of this / Less of this /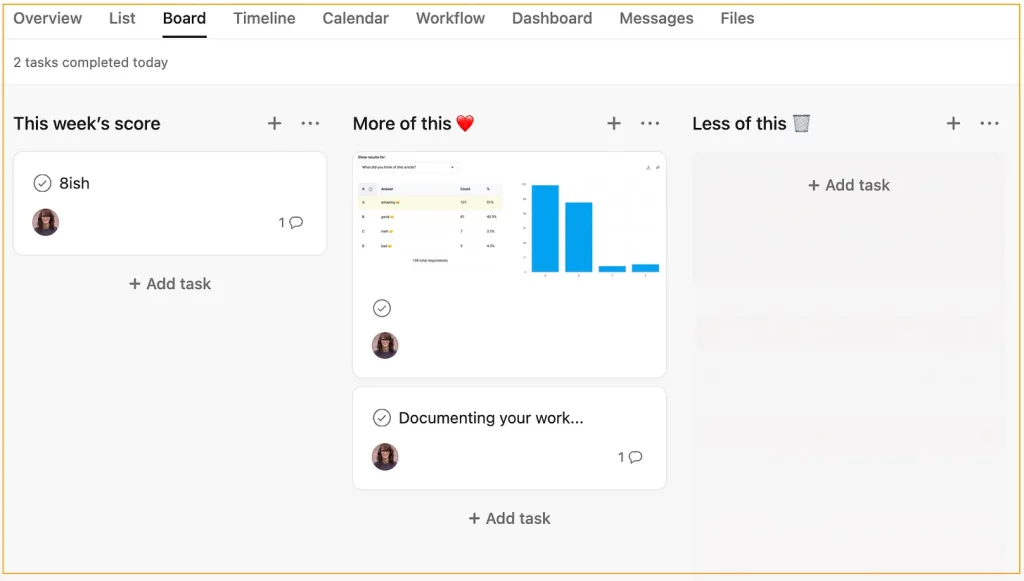 This is the current format of our weekly marketing meetings at Postmark. We fill an Asana board ahead of our weekly check-in, and then we get on Zoom to go through these columns:
This week's score → on a scale from 1 to 10, this helps keep a pulse on the team's level of happiness and motivation

More of this → things that make the team energised and fulfilled. Calling them out helps us avoid the trap of only ever looking at what doesn't work or needs changing—it's important to celebrate individual and collective wins!

Less of this → things that frustrated or blocked the team, which often lead us to workshopping solutions together
🗒️ A note on format: this one is great for iteratively improving how you work as a team, but you don't have to use the same headings we do. Here is a What went well / What didn't go well / Action items variation, with a Trello template I built in 2018.
---
Retro example #2: Loved / Lacked / Learned

I adapted this from the original 4L format (Loved / Loathed / Lacked / Learned), because I love alliteration, but not enough to bring 'loathing' in my retros.

Unlike the previous example, this format helps you reflect on what you've learned, how you've upskilled yourself, and what's stopping you from doing your best work—which makes it great for end-of-project or milestone retros. The example above is from a retro I ran when this newsletter turned two; from the vantage point of the present, it was easy to see how the project had evolved over the previous 12 months and come up with a list of things worth investigating next.
🗒️ A note on format: an alternative is the Mad / Sad / Glad approach, which is 100% about getting in touch with your feelings—but the negatives outnumber the positives 2 to 1, which is why I prefer my 3L version.
---
Whether you do them on paper, in a project management tool, or by building a Lego animal to represent your feelings in 8 bricks or less (…I kind of want to try this one?), retrospectives help you inspect and improve the way you work and live.1

Wit only ~10 days left in 2022, this looks like a great time for an end-of-year retro. Will you try?

1
Remember to always respect the Retrospective Prime Directive, which states: "Regardless of what we discover, we understand and truly believe that everyone did the best job they could, given what they knew at the time, their skills and abilities, the resources available, and the situation at hand."